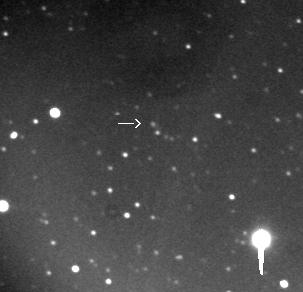 This image of Comet 2001 K5 was taken on February 16, 2001 UT and is a combination of three 120 sec. exposures taken five minutes apart with ST9E and 30cm SCT. Astrometry was reported to the MPC.
From Circular No. 7634 AIUC:

COMET C/2001 K5 (LINEAR)
An object reported as asteroidal by the LINEAR program on May 17 (with prediscovery LINEAR observations on Apr. 30 identified by G. V. Williams) and posted on The NEO Confirmation Page has been found to be slightly diffuse with coma diameter 8" on CCD images taken at Klet on May 27.0 UT by M. Tichy and J. Ticha and to be strongly condensed with a 12" coma and a 13" tail in p.a. 210 deg on 300-s R-band exposures taken with the 1.8-m f/1 Vatican Advanced Technology Telescope at Mt. Graham on May 27.3 by C. W. Hergenrother, T. B. Spahr, and M. Nelson.